b+m International Meeting October 2018
22.10.2018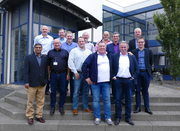 The first b+m "International Meeting" took place at the company's headquarters in Eiterfeld from 16 to 18 October this year. This event was the first of its kind at which all managing directors of all b+m International Companies met in person for the first time. This offered the participants from Germany, Poland, Hungary, Russia, India, the USA and Great Britain the opportunity to get to know each other better and to exchange opinions and experiences directly.
The program ranged from the presentation of various departments of b+m surface systems GmbH in Germany as the parent company to workshops and lively discussions on the future cooperation of the companies. Through joint evening events, the team spirit was also strengthened outside of everyday working life.
"We received consistently positive feedback, the participants were very satisfied with the process and the results. Furthermore, it was really informative to have all managing directors of b+m International Companies at one table to exchange face-to-face information. For this reason we want to organize such meetings regularly in the future", says Michael Palenberg, head of the department b+m International.