Company Profile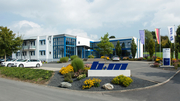 We are a leading supplier of fully automated painting plants and paint application systems for surfaces with very high quality standards. We are focussed in special surface quality, coating thickness and the development of specific dosing and application processes.
To meet these high quality standards, we develop and produce key components in-house: e.g. painting robots, paint supplies, dosing systems, atomisers and colour change systems as well as hardware and software for plant controls. As always, we are regularly updating these technologies to fit all of the latest demands and requirements. These improvements are achieved through a close cooperation with customers, paint manufacturers and suppliers.
We develop and test new painting processes in our own technical laboratory. Combined with a modern project management, we can minimise project cycle times and ensure optimal planning reliability.
Of course, we also support our customers after handing over the turnkey painting plant and provide start-up assistance, production monitoring, technical service and a wide range of training courses. Worldwide subsidiaries and representatives ensure quick and competent support for our customers.
Our core competencies
Fully automated painting plants from one single source
Innovative application systems for high quality 2k/3k waterborne paints
Robot technology, specifically developed for painting and surface treatment
Automation and sensor systems, visualisation - PLC/robots
In-house commissioning of robots and application systems
Technical laboratory, tests, training
24 hr technical service