Plant Modernisation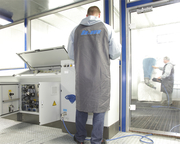 New specifications and laws, changed sequences, new products, a higher throughput: There are many reasons to modernise, modify or expand painting plants.
Our engineers and technicians will work out optimum solutions tailored specifically to your requirements. Experienced installation teams will realise the modifications and our process engineers will integrate the change optimally in the process.
This will be followed by a certification by our safety engineers attesting to the satisfaction of legal and governmental requirements.