Inspection and Maintenance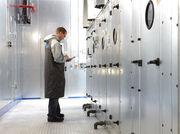 We work out detailed inspection and maintenance plans for your painting plant customised to your specific requirements. It is through regular inspections of the process engineering and preventive maintenance of the application technology of your painting plant that we ensure a stable, high availability and help to reduce unplanned downtimes to a minimum.
Following the inspection and maintenance, we submit detailed status reports.
We also ensure compliance with the dates as well as the regular execution of the works. Our regional sales manager will support you in laying down a thorough inspection and maintenance procedure.
Thermographic analysis
Infrared cameras help to detect and analyse thermal abnormalities, thus making thermography a time and cost saving method for plant inspection and preventive maintenance.
Our services
Industrial thermography
Electrical thermography
Our experts are trained and TUEV-certified thermographic engineers.