Remote Support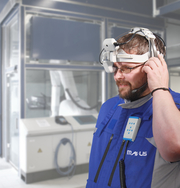 In the framework of your individual service concept, we also offer the modules of remote support. This makes it possible for our specialists to provide support round the clock without any delays caused by travelling time. Such support can also be provided equally fast at remote locations.
Thanks to the latest data transmission technology, long and expensive downtimes are reduced to a minimum. Apart from the standard check of the control system via modem, our service also includes wireless video conferencing in your entire plant.
Our services
Online support
Mobile audio-visual support with mavus®
With our remote support, you can increase your plant availability and simultaneously save costs. We would be happy to advise you.