Painting robots T1 X6 and T2 X6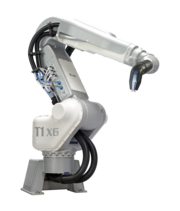 The T1 X6 and T2 X6 series painting robots are state-of-the-art 6-axis articulated arm robots with hollow-wrist, specially developed and optimized for paint application. Both robot series are equipped with the latest generation of machine control. Combined with state-of-the-art drive and control technology, this results in high path accelerations and speeds as well as maximum painting accuracy.
All mechanical robot components are designed, manufactured and assembled by us. Since the painting robots are no large-series products, customer-specific adaptations are always possible.
The T1 series robots are robust and at the same time very dynamic painting robots. Thanks to their long reach, they are particularly suited to be used in automotive plastic painting systems.
With their compact design and kinematics, the T2 series robots are very well suited for limited painting areas or assembly positions dictated by the process, as is often the case in car body plants.
Performance features
Targeted control of surface qualities and coating thicknesses through precise coordination of paint output and TCP speed
Suitable for use in Ex zones and with ESTA application equipment
Protected integration of dosing and application systems in the corpus
Efficient use of material due to installation of application technology on the atomizer, resulting in short supply lines and low losses during color changes
Smooth, easy-to-clean external surfaces
Arm design/process arm
The robot arms are available in various lengths and designs. Depending on the painting task, a variety of arm lengths can be selected for axes 2 and 3.
The standard T1 X6 arm (slimline) can also be upgraded to a process arm. The aluminum-made process arm has a plastic cover and provides adequate space to install application technology close to the atomizer. This results in shorter supply lines of paint and flushing media to the applicator, which in turn results in material savings and quicker color change times. Upgrading the slimline arm to a process arm or vice versa can also be carried out subsequently if required, as it is a modular conversion kit.
Moving axes
The work envelope of the T1 X6 and T2 X6 painting robots can be extended enormously with moving axes (horizontal axes, vertical axes). To minimize paint loss, the complete paint supply can be mounted onto the robot axis.
Weight-optimized design and high rigidity
Robust roller guides in enclosed design to prevent dirt and dust ingress
Multiple robots can be used on one axis
PaintSim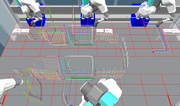 For offline programming, simulation and optimization of robot programs, our self-developed tool PaintSim offers many useful features.
Creation of complete robot cells with one or multiple robots
Simple and fast transfer of motion paths to components and other robots
Compilation of robot programs with a virtual PLC via integrated real-time controller
Property and zone related color coding of path lines
Graphical representation of switching points and brush changes
Import of CAD data in common formats like STEP or IGES